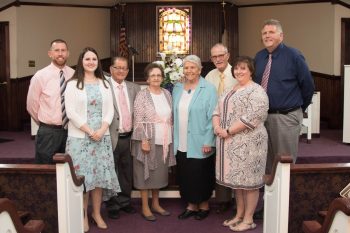 There are many ways "deacons" can serve a congregation. They are encouraged to be active and be aware of the churches needs. We are Thankful for these men of God and their wives.
1. CALLING people on the phone.
Randomly calling active and inactive members, widows(ers) and home-bound adults.
2. CARING for others.
There are several ways of caring for people; by being sensitive to the congregations hardships, troubles, financial and spirtual needs.
3. ENCOURAGING people.
Assisting the congregation and encouraging them through difficult situations and hardships; encouraging them through Gods Word and Prayer.
4. VISITING our people.
Make regular visits to our people to encourage, check-in to see if there are any needs, and then pray with them. Also, make visits to those in hospitals and a visit to our first-time guests who attend our weekend services.
FROM LEFT TO RIGHT: ADAM & JESSICA JOLLY, BILL & GAIL DUNCAN, MARGRET & NORMAN ARROWOOD, RITA & KEITH TURNER.